Google Pay Casino Guide
Google Pay has established a name for itself as one of the safest, secure, and most convenient ways to transfer funds to and from the online casino account. It comes with pros and cons, but the advantages outweigh the disadvantages. In this Google Pay casino guide, we'll take you through our detailed guide on how to deposit and withdraw with Google Pay at online casinos in India. For your ease, we have created an exclusive step-by-step Google Pay Registration and verification guide. We also tackle its Pros & Cons and frequently asked questions that Indian users have when using Google Pay as a payment option. Without any further ado, let's delve right into our ultimate Google Pay casino guide.
Best Online Casinos Accepting Google Pay
Deposit ₹1000
Get 150% up to ₹15,000

Deposit ₹1500
Get additional ₹101
daily for 7 days
Google Pay Pros & Cons
Pros
Fast payment method.
No transaction charges.
Easy to use.
Available with Android and iOS.
Secure and private.
Cons
Only a few online casinos accept Google Pay.
Online casinos take deposits through a Google Pay intermediary, which basically means that deposits will not be instant, but may take several hours to appear in your casino account.
You need a smartphone to pay via Google Pay. You can't use it on a desktop.
Only two casinos give a welcome bonus when you deposit via Google Pay.
How to Sign up for Google Pay?
When creating an account with Google Pay, you have to make sure your phone operates in Android lollipop or above or an iOS 10 or above. You also need to have a stable internet connection. The process of signing up for Google Pay includes the following:
Download the Google Pay app available on both Google Play Store and App Store.
Open the app and choose your preferred language.
Enter your working mobile phone number.
The app will ask permission from you and you have to click "allow."
Log in to your Google account and hit continue.
A one-time password (OTP) will be sent to you. Enter OTP and hit the next button.
Go through the verification process. After account verification, you have to register your bank account details.
How to Verify your Google Pay account?
Before you can use Google Pay to transfer funds to your casino account, you should first verify your account. You will be asked to submit documents such as:
Identification cards such as passport, driver's license, or Aadhar card.
Recent utility bill indicating your name and address.
Screenshot of you as the owner of the Google Pay account.
How to Deposit funds in online casino via Google Pay?
Depositing funds in your casino account using Google Pay is an easy process. The minimum deposit amount is Rs 500. Follow these steps:
Go to your profile and click on the "Cashier" or "Deposit" icon.
Enter the amount you want to add and click on "Deposit". A new window will pop-up where you can log in to your Google Pay account and make the payment. Your deposit will be credited in an instant.
How to Withdraw from online casinos via Google Pay?
Withdrawing from an online casino via G Pay is a straight-forward process. Kindly make sure that you have verified your identity before you request a withdrawal. It is necessary to deposit via G Pay if you want to withdraw via G Pay. To withdraw your funds, simply follow these steps:
Go to the "Cashier" section and click on the "Withdrawal" tab.
A new page will appear where you can see all the payment methods available for you. Select the "Google Pay" payment option.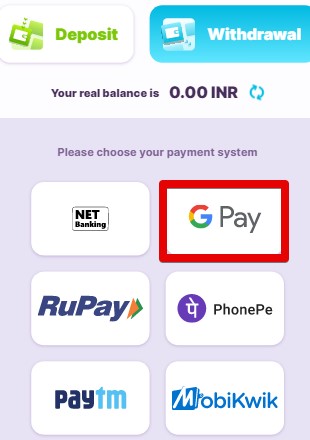 Enter the amount you wish to take out and click on the "Withdraw" button. A new window will pop-up where you can input your G Pay details and initiate the transaction. The minimum deposit amount is Rs. 1500. Your request will be processed in 24 hours and you will receive your winnings in 2 days.
Gamble online with Google Pay
Google Pay is one of the safest and secure ways of making payments in online casinos. It masks both your personal and financial information and keeps it encrypted on the server to prevent the possibility of identity theft. The transfer of funds is quick and efficient. Your credit card information is safe and secure as you don't need to divulge them when making payments. It does not charge any fee for payment. If there is a transaction fee charged to you, know that your casino imposes the fee and not Google Pay.
How Secure is Google Pay?
Google Pay takes personal and financial information seriously. It will never sell your information and transaction history to any third parties nor share with others for targeting ads. Google Pay strongly advised you to set up a screen lock on your phone when using Google Pay app. There is a dedicated Google wallet that protects your payment credentials. What it does is it stores all the necessary data on secure servers and encrypts all payment information using secure socket layer (SSL layer) technology. Your debit and credit card information will not be shown in Google Pay app.
Google Pay Fees
One of the main advantages of using Google Pay as a payment option is that it does not charge a fee for transactions. It is completely free of charge for all users in India.
Frequently Asked Questions
Conclusion
Google Pay is a form of digital wallet and payment solution from Google, a company that has built a solid reputation in the digital industry. Through Google Pay, you can pay for transactions using Android devices in-store as well as supported websites, Google services, and mobile apps. In 2018, Google rebranded its mobile and digital payment services under the name Google Pay, which is Apple Pay's counterpart. If you have a Google Pay account, you can use it for many digital payment forms, including peer-to-peer money transfer.