Neteller Casino Guide
Neteller is one of the highly reputable online payment portable accepted worldwide. It is an e-Wallet where you can store funds and use them when making online transactions, including playing online casinos. Indian players can use Neteller as it supports different currencies, including Indian Rupees. In this Neteller casino guide, we'll take you through our detailed guide. If you are an online casino player in India and wondering what benefits does Neteller payment method offers you, then keep reading this article up to the very end. We will tackle the frequently asked questions that casino players have when using Neteller as a payment portal.
Best Online Casinos Accepting Neteller
Deposit ₹1000
Get 150% up to ₹15,000

Deposit ₹1500
Get additional ₹101
daily for 7 days
Neteller Pros & Cons
Pros
It is entirely free, and the sign-up process is simple, fast, and straightforward.
The verification process takes less than 48 hours.
It is secure and provides multiple firewalls. So you can use it confidently, knowing that your account is safe and well-protected.
The deposit process is instant.
It supports numerous currencies, including Indian Rupees.
It is compatible with other e-Wallet options, cryptocurrencies, and UPI banking.
It is accepted worldwide and by many online casinos, including casinos in India.
Cons
You will need to verify your account if you want to increase your limit.
It employs tight security measures, which is good, but it could also lead to your account being locked out until such time you'll be able to resolve it.
Many Indians find the verification process complicated.
While there is no deposit fee, the withdrawal fee can be relatively high. Currently, the withdrawal fee is 2.5%.
How to Create a Neteller account in India?
Before you can use Neteller to fund your online casino account, the first thing you should do is create a Neteller account. Follow these steps:
Go to the Neteller website and click "join for free," found at the homepage's top right corner and in the middle.
Add all the necessary details in the registration form, including your complete name, and Country.
Key in your email id, password and select your currency. By registering on Neteller, you agree to their Terms & Conditions and Privacy Policy.
Click on "Register," and you will receive an on-screen welcome message from Neteller.
You will receive an email from Neteller requesting you to verify your account. Go to the "Settings" page.
Here, you can complete your profile by entering your personal information. Fill in your residence address and city.
Enter your postcode, Date of Birth, and Mobile Number where you will receive a validation code.
A 6-digit code will be sent to your cell phone. Enter that code in the box and click on the "Verify" icon.
That's It! Your account will be verified and you will be asked to set a 6-digit secure ID. Then, click on "Save".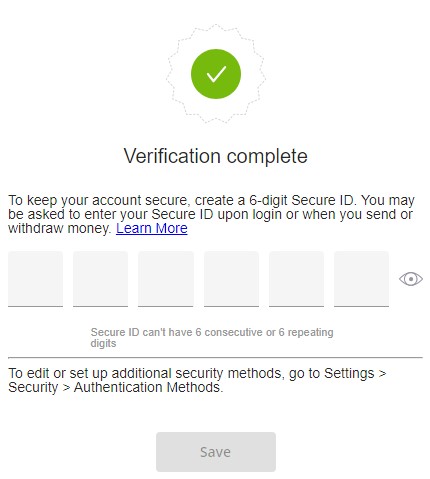 Important Note: Once your Neteller account is confirmed, you can deposit money in our account. Security and the protection of your privacy is a top priority in Neteller. A careful verification process is used for this purpose. You may be asked to verify your account by submitting copies of your official identification documents. Once your verification is complete, your amount limits will be increased.
Using Neteller as a default payment choice
Once your Neteller account is all set up, you can now start using it in funding your online casino account. You can make it your default payment choice. Enter the amount you want to deposit and click transfer, and voila! That's all you need to do to fund your online casino account. The fund transfer is instant and free of charge.
How to Deposit Funds in Neteller in India?
Funding your Neteller account is a straight-forward process. Follow our step-by-step guide on how to load funds in your Neteller account.
Go to the lobby and click on the "Pay Online" icon.
A new small window will appear where you can see your progress. Click on "Get Started".
Choose your payment method and click on "Deposit Now".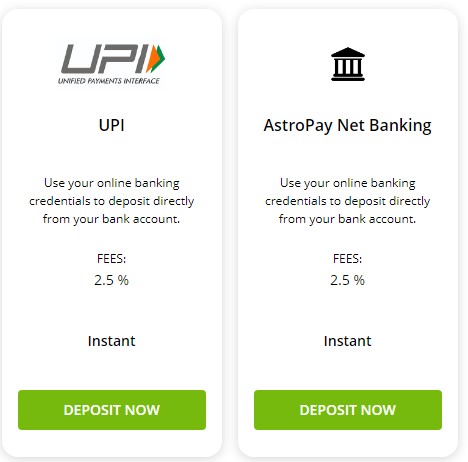 In this window, you can add your payment processor details. When done, click on "Continue" and your payment will be instantly processed by Neteller.
Create an e-Wallet that requires you to deposit money to start using your Neteller account in funding your online casino account. When financing your Neteller account, you can use any of the following methods:
✅NetBanking
✅Maestro
✅Skrill
✅UPI
✅Bitcoin
Choose a transaction limit indicating both the minimum and maximum amount. Cryptocurrencies like bitcoin are inaccessible until you verify your account. If you use bank cards, the payment is faster. However, you have to keep in mind that there could be some issues with local banks. The Federal Bank of India and ICICI Bank are more lenient when incorporating Neteller as a payment service.
How to Withdraw funds from Neteller in India?
You can withdraw funds from your Neteller account via Skrill, local banks, and merchant sites. To withdraw your funds, simply go to the "Money Out" section, select your preferred payment method, enter your details and the amount, key in your 6-digit secure ID, and start the transaction. Neteller to Skrill transfer is instant while Neteller to bank transfer can take several days.
How Secure is Neteller as a payment method?
Casino players in India need not worry about their safety when using Neteller in their online transactions as Neteller is legal and approved by independent financial regulators in the world. It is run by Optimal Payments Limited and a part of the Paysafe Group; both are known as the trusted names in the payment portal industry. It became trendy in India in 2018 and, today, widely accepted on all major casinos operating in India.
Neteller Fees
There is no fee for making Neteller deposits at online casinos. However, when withdrawing from the Neteller account, there will be a fee applicable. Here is an overview:
Frequently Asked Questions
Conclusion
Choosing a reputable payment provider is extremely important. Neteller presents itself extremely well in online casinos and offers you an additional layer of security. With the help of the Neteller App, you can keep an eye on your payments and your budget at any time on your smartphone. You can also set up a clear financial management system that summarizes all deposits in various online casinos at a glance.
If Neteller is offered as a payment option in an online casino, this is a good sign for a reputable casino. Deposits and Withdrawals can be made completely free of charge via Neteller. Deposits are instant and withdrawals are also credited to you in minutes. Another big plus is the Net + Prepaid Credit Card, which is available in both virtual and physical form. We can proudly say that Neteller is one of the best payment methods and can definitely be recommended for all casino players.