Payeer Casino Guide
Technology has improved dramatically. It has made life easier and comfortable; the same thing goes for the payment system. Today, there are digital payment solutions like e-Wallets that make fund transfer a breeze. However, with so many options in payment solutions, it is pretty difficult to distinguish which one is the best. Payeer is one of the e-Wallet options that is gaining popularity across all platforms. If Payeer sounds new to you, don't worry, as we are going to tackle Payeer and what makes it one of the best digital payment solutions, especially if you are going to make payments in online casinos. In this Payeer casino guide, we'll take you through our detailed guide on how to deposit funds into your account with Payeer.
Best Online Casinos Accepting Payeer
Deposit ₹1000
Get 150% up to ₹15,000

Deposit ₹1500
Get additional ₹101
daily for 7 days
Payeer Pros & Cons
Pros
Huge range of funding options
Instant deposits
Accepts Cryptocurrency
Secure transactions
Easy to create an account on Payeer
Low fees
Payeer Debit card available for users
Cons
Accepts very few currencies
Slow customer support
Not all casinos accept Payeer as a withdrawal method
Who is Payeer?
Payeer is Paycorp Limited's trading name, with registration in Vanuatu, a small island in the South Pacific Ocean. It may sound like an underdog, but it is not. In fact, it is a multinational corporation and one of the leaders in payment services in the world.
Can you trust Payeer India?
Yes. It is one of the most significant digital payment solutions in the world. It has secured all the necessary licensing and registration, giving its clients peace of mind and confidence. It has three licenses: the VFSC financial license, MEAC wallet license, and MEAC exchange license. These are highly reputable licensing bodies known to have stringent requirements. Payeer has complied with all requirements, so you can guarantee that it is a trusted name.
Besides the fact that it is a highly reputable e-Wallet, you wouldn't believe how easy it is to create an account. In just a few minutes, you can have your account set up and running. The sign-up process is simple and straightforward.
How to Create a Payeer account in India?
Creating a Payeer account is as easy as 123. Just follow our step-by-step guide on how to sign up at Payeer.
Go to the Payeer website and click on the "Create Account" icon.
A new window will open where you can enter your email address.
You will receive a code in your email id. Enter that code in the box and move on to the next step.
You will be shown your password, account name, and secret code. Save these details in a safe place somewhere. Then, click on the "Next" button.
Now, key in your first Name, Last Name, and Country. Your account will be successfully created.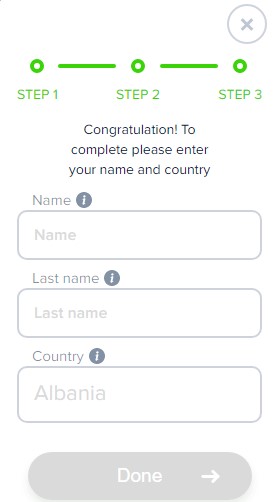 Important Note: Now you are ready to transfer funds to your Payeer wallet and transact to over 150 different payment solutions. Once your account has been successfully registered at Payeer, you can verify your identity to increase your funds limit.
To start your verification process, simply go to your profile and click on the "Verified" or "Verification" icon.
A new page will open where you can see the requested official documents. You can prove your identity by uploading your ID card or Passport. To confirm your residence address, you can upload your bank statement or recent utility bill.
How to Deposit funds in Payeer in India?
Funding your Payeer account is a straight-forward process. Just follow our guide on how to add funds to your Payeer account.
Go to your account and click on the "Deposit" icon on the currency you wish to add.
You will be redirected to a page where you can select your payment option, enter the amount, and initiate the transaction. Your deposit will be added to your Payeer account immediately.
How to Deposit at an Online Casino using Payeer
Log in to your online casino account.
Choose the

deposit option

using Payeer.
Specify the amount you want to deposit and hit confirm.
You will be redirected to an invoice page for the Payeer site. On that page, you have to select the method you want to pay the invoice with.
Choose your desired method, and you will be taken to a site to complete the invoice.
How to Withdraw funds from Payeer in India?
You can take out money from your Payeer account via Cryptocurrency, VISA, Mastercard, PerfectMoney, and Qiwi. To take out your funds, simply follow these steps:
Go to your account and click on the "Withdraw" icon on currencies.
Enter the amount you wish to withdraw, enter your relevant payment details and start the transaction.
Why Should you use Payeer?
There are many good reasons why you should choose Payeer. They are the following:
Versatility – One of the strong points of Payeer e-Wallet is that it is versatile. It can be utilized for any payment purposes, including payment in online casinos. If you are anxious that your payment method to an online casino will be declined, then don't be. Using Payeer is a sure way to making payments on gambling sites such as in online casinos.
Allows ATM Withdrawals – Payeer users can request a plastic card that will serve as a debit card. There is a minimal fee for the card, and its validity is three years. If you have a physical card, you can use it as a payment to brick-and-mortar stores. You can also withdraw money using the card as it is widely accepted in major ATMs (automated teller's machines) all over the world.
Instant payments and exchange – Another great thing about Payeer is the instant deposit. If you transfer funds, it will immediately reflect on your account, which is useful when making payments in online casinos. It also permits currency exchange with a nominal fee. You can exchange Indian rupees, cryptocurrencies such as

Bitcoin

, and other digital payment portals

like PayPal

.
How Secure is Payeer?
When making a financial transaction online, it is essential for the transaction to be safe and secure, especially you are divulging your financial information. Payeer is one of the secure and safest ways to transfer funds online. For Indian gamblers, you know how difficult it is to make payments to online gambling sites in India, but with Payeer, you get to avoid the hassle and stress. Payeer is not too concerned about how you use the platform to making payments. As long as you are using their service and you are not doing anything illegal, you are good to go.
Download the Payeer App
Is there a dedicated Payeer App? Yes! In India, there is a Payeer app that you can download for free. The app is compatible with Android and iOS devices. You can see the Payeer app in Google Playstore and Apple Store. If you visit the official page of Payeer, you will see at the bottom of the homepage the download links. All you need to do is to choose your device's OS, click the link, and you will be redirected to the download page. Follow the download instruction so you can start using the app anytime and anywhere for as long as you have a reliable internet connection.
Payeer Fees
Kindly note that Payeer does not charge any fee for making deposits into your online casino account. However, when withdrawing from the Payeer e-wallet, there will be charges applicable. Internal transfers have a 0.5% fee. There will also be currency exchange fees. Funding your Payeer account via cryptocurrencies is free of charge. Funding your account via VISA and Mastercard has a fee of 3.99%
When you cashout money from the Payeer account, there will be the following charges:
VISA and MasterCard: 1.99%
PerfectMoney: 1.99%
Qiwi: 1.99%
Cryptocurrency: Free
Frequently Asked Questions
Conclusion
Payeer is an excellent option for people who are looking for a versatile and convenient e-Wallet method. Payeer is a game-changer for online casino players, especially for Indian gamblers as it is accepted worldwide. There is no reason why your payment won't be approved in online casinos and betting sites. Most of all, it permits the transfer of funds from one digital payment platform to another. Not to mention, Payeer is accepted in many online casinos and betting sites across the globe.