Skrill Casino Guide
Many online gamblers use Skrill in funding their account. It is extremely popular not only for Indian gamblers but for gamblers worldwide. Skrill is an online payment platform that enables users to transact online without going to the bank. In other words, it is a form of e-Wallet, and it allows you to both send and receive money from online casinos and other online merchants. In this Skrill casino guide, we'll take you through our step-by-step guide on how to use Skrill to deposit and withdraw funds from your casino account. We will also tackle the Pros & Cons, Skrill fees, and frequently asked questions that casino players have when using Skrill as a payment processor.
Best Online Casinos Accepting Skrill
Deposit ₹1000
Get 150% up to ₹15,000

Deposit ₹1500
Get additional ₹101
daily for 7 days
Paysafecard
. Today, Skrill is one of the largest digital payment options and is used by millions of users all over the world. In addition to accessing Skrill in almost 200 countries, users can also choose between 40 different currencies.
Skrill Pros & Cons
Pros
The deposit transaction is instant. In just a few seconds, the money will be immediately credited into your casino account.
Skrill account is free.
Completely anonymous payments.
It is an internationally recognized deposit method.
It is widely accepted in online casinos and betting sites worldwide.
It is a safe and secure payment method regulated by the Financial Conduct Authority in the United Kingdom.
Cons
The Reserve Bank of India made it quite difficult for Indians to deposit money with Skrill when using it for gambling purposes.
There is a 2.5% Skrill fee, which could be higher than other deposit methods in India.
Sometimes Casino bonuses cannot be claimed if you deposit via Skrill.
How to Create a Skrill account in India?
Before you can use Skrill to deposit funds in your online casino account, the first thing you should do is create a Skrill account. Follow this step-by-guide on how to create an account at Skrill:
Go to the Skrill website and click on the "Register" button.
A new page will appear where you have to enter your details. Key in your First Name, Last Name, Country, and select your currency.
Next, enter your email and a password. By registering on Skill, you agree to their Terms & Conditions and Privacy Policy. Click on the "Register" icon.
Your account will be created but you still have to add more information to complete your profile. You will also receive a confirmation email from Skrill. Verify your email.
You will be taken to a page where you can click on the "Pay Online" icon to edit your information.
Next, click on "Get Started".
Now, input your address and City.
Enter your postcode, Date of Birth, and Mobile number where you will get a validation code.
Enter that 6-digit code in the box and click on the "Verify" icon.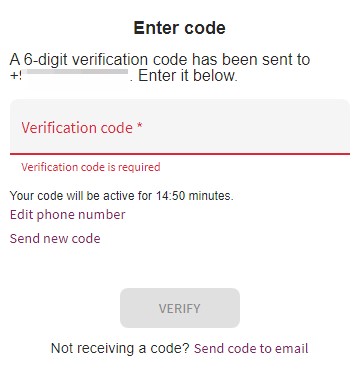 That's It! Your account will be verified and you will be requested to set a 6-digit secure ID. When done, click on "Save".
Important Note: Once your Skrill account is verified, you can deposit money in your account. Security is a top priority in Skrill. A verification process is carried out for this purpose. You may be asked to verify your account by uploading copies of your official identification documents such as PAN Card or Passport or ID Card. Once your verification is successful, your deposit limits will be increased.
How to Deposit Funds in Skrill in India?
Before you can deposit money into your online casino account, you should first deposit it into your Skrill account. There are different ways to fund your Skrill accounts, such as through credit or debit card, UPI, Neteller, AstroPay, and bitcoin. Kindly note that all deposit methods have a fee of 2.5%.
To deposit funds in your account, follow this process:
Go to the lobby and click on the "Pay Online" button.
You will be redirected to a page where you can see all the deposit methods available for you. Select your payment option.
Enter your payment processor details, When you are finished, click on the "Continue" icon, and your deposit will be processed instantly by Skrill.
Important Information: If you prefer to use your debit or credit card in funding your Skrill account, you will be prompted with a question as to whether you will use the money for gambling or not. You won't be able to deposit to your online casino account using Skrill if you choose the non-gambling purpose. Choose the gambling option as it is the only way to fund your casino account using Skrill. However, you have to keep in mind that some banks don't allow transactions for gambling purposes. What you will do is you resort to another method like Neteller.
Another way is to create two Skrill accounts, one for gambling and one for non-gambling purposes. You can use the money in the non-gambling history to transfer funds to the Skrill account for gambling purposes. Just make sure you use different details in setting up your Skrill account, or else both accounts will be suspended.
Funding your Skrill account via Neteller
Create a Neteller account so you can use it in funding your Skrill account. Visit Neteller's website and follow the registration instructions. Once you already have your Netteller account set up and funded, the next step is to click deposit and choose the Neteller payment option.
Enter the amount you want to deposit.
Provide your Neteller details such as email and Google authentication code.
Click submit.
Once you are done funding your Skrill account, the next step is to deposit money into your online casino account. Log in to your online casino account. Go to the deposit page. It is usually found on the main menu, specifically in the "deposit" tab. Choose Skrill from the deposit option. Specify the amount you want to deposit and initiate the transaction.
Skrill Account Verification
It is not immediately necessary to verify your Skrill account. Still, if you're going to get the most of what Skrill has to offer, you need to get your account verified. Once your account is verified, you will have a high sending and receiving fund limit.
To get verified, you need to submit all the necessary documents such as a valid ID, passport, driving license, and the likes. You also need to upload a front and back copy of your Aadhaar card. Verify your address by sending documents reflecting your name and address. Take a selfie. Once you submitted all the necessary documents and complete the process, you will receive an email confirmation.
How to Withdraw funds from Skrill in India?
You can withdraw funds from your Skrill account via Neteller and local banks. To withdraw your money, simply go to the "Money Out" section, choose your payment option, enter your details and the amount you wish to take out, key in your 6-digit secure ID, and start the transaction. Skrill to Neteller transfer is instant while Skrill to bank transfer can take several days. The fee for Skrill to Neteller withdrawal is 3.49% and Skrill to bank transfer incurs a fee of Rs. 482.
How Secure is Skrill as a Payment Method?
Skrill offers a prepaid payment method. This means that you set up a so-called "digital wallet" at Skrill, which you can then use for various payment processes. For example, when shopping online you never have to reveal your bank details and you are on the safe side. A transaction with Skrill is considered to be very secure. Skrill is recognized by the UK Financial Regulator's Financial Conduct Authority (FCA). Your account statement data as well as your personal data and all monetary transactions are secured by a complex 128-bit SSL encryption.
With the additional two-factor authentication (2FA) you can further secure your Skrill account. In addition to your username and password, you can also use a 2FA code that is generated directly in the Skrill app. This shows how extensive Skrill's measures are, which are intended to protect customer accounts. All transactions are constantly analyzed and monitored.
Skrill Fees
One of the reasons millions of users prefer Skrill is because of the low fees. Setting up your Skrill account is quick, easy, and of course, free. You can pay with your Skrill wallet at an online casino without any additional fees. Just make sure the selected casino accepts this payment option. All the money you receive through your Skrill Account is free.
Deposit methods have a fee of 2.5%. If you choose to send money to another Skrill wallet or to an email address, you will be charged a 1.9% fee on the amount sent. Withdrawing to Neteller, a 3.49% fee will be charged. Withdrawal to a bank account will incur a fee of Rs. 482.
Frequently Asked Questions
Conclusion
With its service, Skrill offers a quick and easy way to transfer money over the Internet. A Skrill account is almost indispensable, especially for customers who often visit online casinos virtually. It enables a particularly fast, usually free deposit. Currently, Skrill is not only one of the most famous, but also one of the best providers of online payments. A very large number of online casinos work with this payment service. When your online casino transfers the money to your Skrill account, you receive your winnings almost immediately. We can proudly say that Skrill is quick, secure, and straightforward.