Delhi Gambling Laws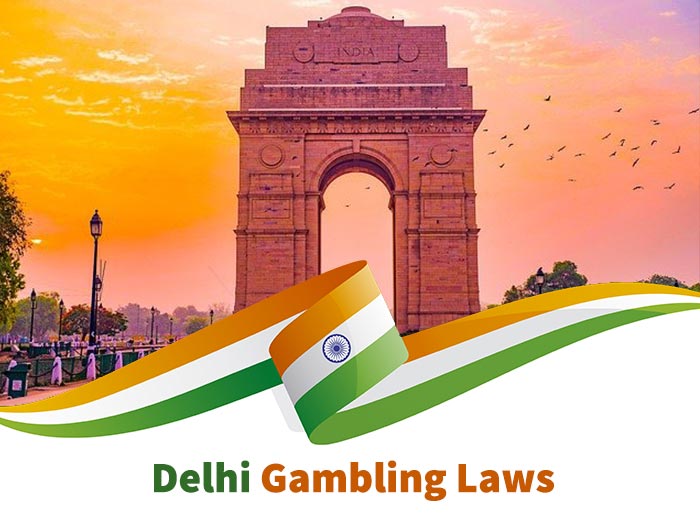 Delhi, the capital territory of India, has been enjoying all forms of gambling throughout India's history. It is written in the past that even the sultans and kings have been engaging in various gambling activities. It has been passed on from generation to generation. Today, gambling is not only for the upper class. All society sectors can enjoy gambling for as long as they are of legal age and are not breaking any rules.
In Delhi, they have set up their own gambling laws and regulation. If you are in Delhi, you are bound to abide by the Delhi Gambling Laws to ensure that you will not be breaking any laws that could, later on, put you in a bad position. In this article, we are going to discuss how Delhi gambling law works and how you can gamble legally.

How to gamble from Delhi
Delhi Gambling laws are simple and straightforward. The first thing you should do is to choose from our recommended online casinos. Nothing to worry about as these online casinos are located outside India and Indian gambling laws do not govern them. These online casinos are tailored to desi players. There has not been any single person in India persecuted for the record because of online gambling. Hence, it is safe to say that online casinos are safe for Indian players.
Legal Online Casinos Outside of India
Deposit ₹1000
Get 150% up to ₹15,000

Deposit ₹1500
Get additional ₹101
daily for 7 days
Is gambling legal in Delhi?
In Delhi, gambling is prohibited except horse racing. It is in accordance with the Delhi Public Gambling Act, 1955. What does it mean? If you are participating in any gambling forms happening within Delhi's territory, you can be persecuted. Yes, the government of Delhi can file a case against you. Does it mean you can't participate in online casinos if you are residing in Delhi? Well, here's the tricky part. Online casinos are located outside India, which makes it legal for you to gamble online as they are not within the jurisdiction of Delhi. They are not governed by Delhi Gambling Laws and India's gambling law in general.
The Gambling Laws of New Delhi
The Delhi Public Gambling Act, 1955 regulates all gambling laws in Delhi. It is created to restrict underground casinos and gaming houses (organized gambling). It includes both online and offline gambling activities that take place within Delhi's jurisdiction. It does not matter if it is a game of luck or a game of chance; for as long as it is categorized as gambling, it is illegal. Why is that so? Delhi Public Gambling Act operates under the premise that there is no such thing as a "game of skill."
Delhi Gambling Laws – Delhi Public Gambling Act, 1955
It is the only gambling act that governed the state of New Delhi. There is a nationwide gambling act in India, "Public Gambling Act, 1867", but it does not apply in New Delhi. If you are in New Delhi and are caught gambling or present in a place considered a gaming house, you could be fine up to Rs. 500. That's a pretty small amount but wait. Gravity is higher in people who own and run a gambling house. If you get caught, you could be asked to pay up to Rs. 1,000 and imprisonment of up to six months. Keep in mind that the charges could get doubled each time you are found guilty of the crime.
Casinos in New Delhi
The capital of India, New Delhi, is the center of underground gambling. Many secret gambling houses are situated in different parts of New Delhi – hotels, farmhouses, and private places. It's a vast underground business, and police authorities have been working hard to get rid of those establishments and prosecute the people behind those illegal deeds.
New Delhi Gaming-Houses
Gaming houses in New Delhi are illegal, and it is difficult to track them down as players are on an invite-only basis. Many big players participate in the game. The organizers would give free travel and accommodation to big players in exchange for a specific entry amount to the gaming house. The thing is, gambling is no longer done the traditional way. These players use software and gambling apps, and all they have to do is log in to their credentials. Fund transfer is done online, making it all the more difficult to trace the transaction, especially in gamblers who use cryptocurrency like Bitcoin, making the transaction seamless and anonymous.
Lottery in Delhi
Lotteries are extremely popular in India, but unfortunately, they are illegal in Delhi. Does it mean you can't participate in lottery events? Not really! Even if you are from Delhi, you can participate in a lottery event for as long as the lottery is located outside Delhi's jurisdiction. The Lottery Regulations Act of 1998 allows some states in India to offer local lotteries. In fact, you can participate in global lotteries.
Sports betting in Delhi
The concept of sports betting follows a game of chance and going back to Delhi's law, any forms of gambling that revolve around a game of chance are illegal. Fortunately, many online casinos offer a sportsbook where you are allowed to place your bet on your favorite sports. Online casinos located outside India offer the best and latest odds. They have taken into consideration Indian punters, and they included games love by Indians such as Kabaddi and IPL.
Horse racing in Delhi
Is horse racing allowed in Delhi? Yes! In fact, it is the only legal gambling game in Delhi. You can directly place your bet at the Delhi Race Club. There are also off-site betting counters in various parts of New Delhi that accept your bet. Should you wish to place your bet on a foreign gambling site, you can do so.
What about poker,

rummy

, flush, and other card games?
Delhi has been precise on its stand about gambling that involves skill. It states that there is no such thing as a game of skill, and it is illegal in Delhi. It is surprising to know that discussions concerning card games are still ongoing. However, up until now, the legal status of these games is unsure. Should you wish to play these classic casino games, you can do so at online casinos.
Summary
Delhi has stringent gambling rules and regulations. However, it will only be a problem if you are playing from a local gambling house. If you gamble from offshore online casinos, there's no reason for you to fear and worry as Delhi or India, in general, has no jurisdiction over these casinos.